SP30B
Price: $149.00
Model #: 9002900
The Palstar SP30B communication speaker is a custom engineered speaker to the frequency range of the human voice. To truly enjoy the radio listening experience, you need a high quality speaker.
New design for 2018 with gray front panel.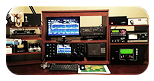 "Excellent 5/5 We have owned our SP30 for about 4 years now and feel the audio replication is excellent. We also like the fact that Palstar Gives us more than one connect option. We made up a connection cable to our radio in a matter of minutes. A very simple operation. Also the construction and fit of the speaker is perfect. Thanks Paul and company for making such a fine quality product - KE4WY"
Read more on eHam.net...
After completing the R30A Shortwave receiver to rave reviews among users, the Palstar team saw the need for a compact communication speaker that is tonally matched to the range of Ham Radio and Shortwave Radio and designed to put out clear, low-distortion reproduction of the frequency range of broadcast human speech.
The key to quality speaker sound is magnet size. The SP30B has an 8 Ohm speaker with a hefty 6 oz. magnet, a frequency response of 60 Hz to 8 kHz, and a 5 Watt power rating.
Palstar speakers feature hand-made wooden cabinets made from 9-ply Birch crafted for our speakers and "Made in the USA" by local Ohio cabinet makers.
The SP30B is the speaker that will bring the richness of a visually satisifying hand-made wooden cabinet and good sound to your listening experience.