HF-AUTO
Price: $1695.00
Model#: 9005375
The Palstar HF-AUTO 1800 watt automatic antenna tuner covers 160 to 6 Meters with a power rating of up to 1800 watts PEP. Hams have enjoyed the benefits of low power auto-tuners for years, but now Palstar takes it to the next level and offers auto-tuning with a power rating of 5 Watts to 1800 watts.
Like all Palstar products the HF-AUTO was designed by Hams for Hams carrying on the Palstar tradition for high-quality products designed and made in the USA.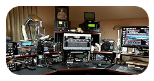 "GREAT Tuner! 5/5 On Jul 22, 2015 I wrote a rave review on this auto tuner. Well it's January of 2017 and I feel just as good about it now as I did then. I hop around on the HF bands frequently and this tuner is able to keep up with me very efficiently! Great job Palstar! - AE5GG" Read more on eHam.net...
Auto-tuners have been around for years, but most of them use clacking relays and lumped components so that the match is always just a little bit off.
Palstar reinvented the auto-tuner with continuously variable components for a perfect match every time, and capped it off with a power rating of 5 Watts to 1800 watts.

Firmware Download and Manual

Updating the firmware requires a RS-232 cable (not included). The firmware can be updated with a USB cable and USB to RS-232 adapter available for purchase
here
.