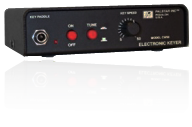 CW50A
Price: $379.00
Model #: 9001600
The CW50A microprocessor-based electronic keyer works with any transmitter or transceiver.
A front panel speed control is continuously adjustable over the range of 10 to 40 WPM and is crystal controlled for high accuracy over the full voltage and temperature range. Your choice of Mode A or Mode B Iambic keying is just a rear panel switch away. Separate rear panel outputs for grid block or cathode keying are available.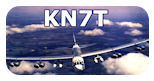 "A nice piece at a reasonable price  5/5 The new CW50A keyer interested me because it has a receiver mute output built right into the rear panel. It also has rear panel outputs for grid block or cathode keying so it is compatible with any radio. What struck me most about this unit after receiving it is the extremely high quality construction - I removed the top cover to peer inside and the circuit board is a work of art - KN7T"
Read more on eHam.net...
A built-in sidetone generator and speaker with convenient front panel volume and pitch controls makes it easy to monitor your sending and also means the keyer can serve as a practice keyer for training purposes.
Spacing is adjustable to provide compensation for transmitters which distort the keying waveshape. Dash weight is adjustable to provide compensation for equipment that distorts the dash to space ratio.
The CW50A may be used with a straight key, semi-automatic (bug) keys and single lever or dual lever "squeeze" paddles. Why would you use an electronic keyer with a straight key or "bug"? Because the key closure and key opening are debounced. This is especially useful when using a bug with modern, high transfer speed, full break-in rigs.
The CW50A works with all tube and solid state rigs and is powered by either a 9V battery or an AC adapter (supplied - U.S. only). The front panel and top cover are finished with durable powdercoat. All needed plugs are included.
A reed relay mute circuit allows the keyer to be used with the Palstar R30 or other receiver when using a separate transmitter. The CW50A is even programmable to allow full or semi break-in when used with a separate transmitter/receiver combo.
If a separate receiver is not used, the reed relay becomes available as an additional keying output, and is jumper selectable to provide either a contact closure to ground or a +12VDC output. The CW50A Electronic Keyer to be the most versatile keyer on the market today!