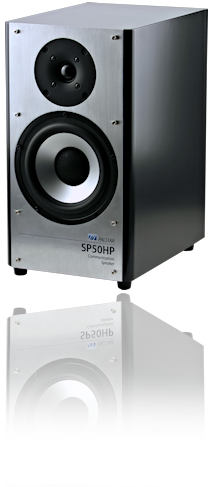 SP50HP POWERED
COMING SOON!
The Palstar SP50HP POWERED is a new studio monitor quality communications powered speaker featuring a 50 Watt internal amplifier, Bluetooth connectivity, and single monaural output (with one speaker) or dual monaural/stereo L & R speaker outputs (with two speakers).
The SP50HP is a custom engineered speaker designed to both match the sonic characteristics of the human voice (70Hz to 5kHz) and via a rear panel mounted switch offer the full frequency range (20Hz to 20Khz) for high-quality music and audio-visual listening. The "H" stands for both high quality and high power, because the SP50H can handle a maximum 50 Watts RMS of audio power, and measuring 15" high X 8.5" wide" X 11.75" deep.
The SP30HP POWERED features an internal 50 Watt amplifier that attenuates and re-amplfies the high-level amplified signal from your transceiver. The inputs are mounted on the rear of the speaker on a brushed aluminum panel. The power switch with LED power, Bluetooth indicators, and volume control are mounted on the brushed aluminum front panel.
On the rear panel you'll find four input connections:

1) Gold-plated binding posts for a monaural input wire connection;
2) 3.5mm monaural jack from your amateur radio transceiver or other product (3.5mm to 3.5mm cable supplied);
3) Optical digital stereo;
4) RCA L+R stereo input.

A fifth input is available via a built-in Bluetooth receiver to connect to your Bluetooth-enabled device for communications or your mobile device or computer for audiophile-quaility stereo listening via Bluetooth 4.1 aptX Low Latency with a high performance DAC (192kHz sampling mode, 24-bit 8x digital filter, 128x oversampling).
Output is to a two-way studio monitor quality speaker for single speaker communication use or bridged mono amplifier for dual mono (L & R) speaker communication setup. High-quality stereo playback is achieved through the traditional stereo configuration of L & R speakers with one speaker that contains the amplifier (Left channel) and one passive speaker (Right channel) connected to the amplifier with high-end audio cable with spade plugs (supplied).
The SP50HP POWERED takes communications speakers quality to the next level of audio that is only heard in professional recording studios and broadcast radio and television.
Palstar Incorporated