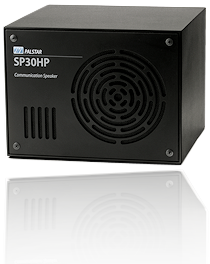 SP30HP POWERED
Price:
Model #: DISCONTINUED
The Palstar SP30HP POWERED is our popular SP30H ultimate communications speaker powered by an internal amplifier. The SP30H is a custom engineered speaker designed to match the sonic characteristics of the human voice. The "H" stands for both high quality and high power, because the SP30H can handle a maximum 30 Watts RMS of audio power, and measuring 11" wide X 8-1/4" high X 10" deep.
Note: We can also upgrade your existing SP30H to a SP30HP for $100 plus shipping. Please call for details.
The SP30HP POWERED features a 30 Watt amplifier that attenuates and re-amplfies the high-level amplified signal from your transceiver. The inputs are mounted on the rear of the speaker on a brushed aluminum panel along with power switch, LED power indicator, and wall adapter input.
On the rear panel you'll find two input connections, gold-plated binding posts for a wire connection and 3.5mm input from your amateur radio transceiver or other product (3.5mm to 3.5mm cable supplied). A third input is available via a built-in Bluetooth receiver to connect to your Bluetooth-enabled device.
The SP30HP Bluetooth ID = PALSTAR.
Output is to a single 6-1/2" speaker is optimized for 45Hz to 8kHz, perfect for communications intelligibility, and features a massive 11.6 oz magnet. Stereo or mono signals wirelessly transmited to the Bluetooth receiver are summed L+R for true monaural output.
"Simply the Best! 5/5 Over the past 36 years, I have been enjoying the Ham Radio Hobby, the Palstar SP30H Speaker is the best I have ever heard. Over the years, I have had many Speakers. The SP30H beats them all hands down. It helps to make the Stations with poor audio sound better. I now have two of these Speakers in my Shack and my only regret is that I did not buy them sooner - WX4C"
Read more on eHam.net...


Included with the SP30H Active is a 6' cable with two 3.5mm connectors for easy out-of-the-box connection to your transceiver.
Palstar speakers feature hand-made wooden cabinets made from 9-ply Birch crafted for our speakers and "Made in the USA" by local Ohio cabinet makers. They are available in black or cherry.
The SP30HP POWERED takes communications speakers quality to the next level featuring the richness of a visually satisifying hand-made wooden cabinet and clear sound to your listening experience.