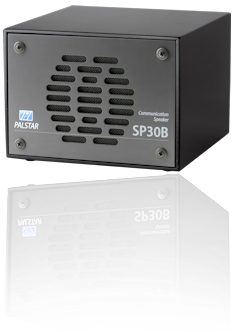 SP30B
Price: $99.95
Model #: 9002900
The Palstar SP30B communication speaker is a custom engineered speaker to the frequency range of the human voice. To truly enjoy the radio listening experience, you need a high quality speaker.
"Excellent 5/5 We have owned our SP30 for about 4 years now and feel the audio replication is excellent. We also like the fact that Palstar Gives us more than one connect option. We made up a connection cable to our radio in a matter of minutes. A very simple operation. Also the construction and fit of the speaker is perfect. Thanks Paul and company for making such a fine quality product - KE4WY"
Read more on eHam.net...
After completing the R30A Shortwave receiver to rave reviews among users, the Palstar team saw the need for a compact communication speaker that is tonally matched to the range of Ham Radio and Shortwave Radio and designed to put out clear, low-distortion reproduction of the frequency range of broadcast human speech.
The key to quality speaker sound is magnet size. The SP30B has an 8 Ohm speaker with a hefty 6 oz. magnet, a frequency response of 60 Hz to 8 kHz, and a 5 Watt power rating.


Now included with the SP30B is a 6' cable with gold-plated wire terminal and 3.5mm connectors.
Coming Back due to Ham Demand

We're now in the works to redesign the metal rear panel for all our speakers due to request by our customers. This will fit all new speakers that have shipped with the round speaker terminal inserts who may wish to switch back to the metal plate. At Palstar we deeply value customer input into our products.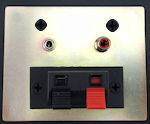 Palstar speakers feature hand-made wooden cabinets made from 9-ply Birch crafted for our speakers and "Made in the USA" by local Ohio cabinet makers. They are available in black or cherry.
The SP30B is the speaker that will bring the richness of a visually satisifying hand-made wooden cabinet and good sound to your listening experience.

Palstar Incorporated