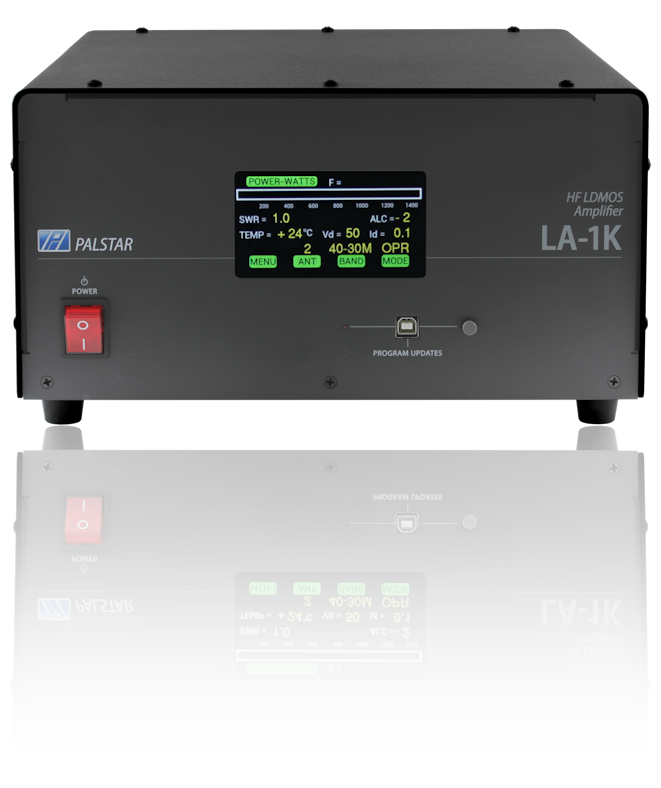 LA-1K
Price: $3495.95 $3795.95 MSRP
Model#: 9005800
Introducting the new LA-1K RF Sensing Dual HF LDMOS 1000 Watt Amplifier. While the LA-1K will work with a wide variety of tuners and transceivers, Palstar custom-designed the LA-1K to work as the perfect match for our very popular HF-AUTO autotuner.
MADE IN THE USA
New design for 2018 with gray front panel.
We are pleased to announce that the LA-1K far exceeded all standards in FCC testing at a FCC-certified laboratory and received certification for equipment authorization.
Video Review of LA-1K:
[Click on photo to view on YouTube]


LA-1K in the Ham Shack photos:
[Click on photo to view on Facebook]


Customer Review of LA-1K: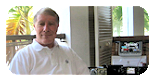 "I received the LA-1K. Commissioning it was simple. Like the HF-AUTOs I have, it just does what it is supposed to do while looking pretty, particularly as it sits on top of the tuner.

Thank you for a great job again, Paul, and to your very good people.

Vy 73,
- W2BWL / M0IBD / V26WT
DOWNLOADS:
1.
Download
the LA-1K brochure: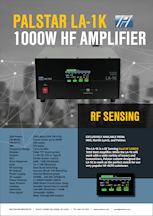 2.
Download
the LA-1K User Interface touchscreen menu options (click below):

3.
Download
the LA-1K manual insert:
Download
LA-1K Quickstart guide: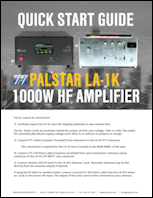 5.
Download
LA-1K Firmware:
Document: LA-1K Fault and Display Notifications
LA-1K Firmware Summary:
V1.07B: Increase the required raw power level required to update the frequency (avoiding problems that cause a transmission going into bypass).

V1.05K: Expand version 1.05E to test for the condition where the unit is transmitting only on antenna 2 or 3.

V1.05J: If a band change while in direct keying, change to Standby.

V1.05H: Expand keying status to include: 3= fault overdrive, 5= fault Id, 9= fault +Vd

Added Firmware version information to the end of the RS232 status message.
Added variable Displayed_Fault that extends the display of the condition that caused the bypass of the amplifier and that indication will now be sent as the keying status through the RS232 and will blink on the TFT display.
The indication on the display will be cleared on the next PTT or if the mode is changed.
Blank out the ALC display when displaying a fault condition.
Increase the size of the fault display, capitalize 'OVERDRIVE'.


V1.05E: Increase the delay switch timing when a frequency change is detected that causes an antenna change.


V1.05B: Allow 5MHz operation.


V1.04C: Remove low signal level SWR and frequency detect when in standby mode.


V1.04B: Test for an overdrive fault for over 67 watts only if not in direct keying mode. Bypass Id fault if > 45.9 amps.


V1.01C: Reduced transmit sequencing delay from 14ms to 3 ms.


V1.02A: Unkeys amplifier with low +50V (<44V) to protect transistors from damage if supply trips as on 120V > 32A conditions.


V1.02B: Replaced the word "FAULT" with "BYPASS" for SWR Trip, Thermal Trip, and LW 50V Trip. Also, color changed from Red to Green on above (except temp#) when too hot.


V1.02C: Firmware upgrade added arrows in selection windows showing currently selected value (Antenna or Band). An exit button was also added in these windows, even though it previously would exit when selection was entered.


V1.02D: Firmware version not released.


V1.02E: 1) Implements reverse RF protection against nearby transmitters that may "fool" the LA1K's SWR detector preventing the LA1K from keying when strong signals from close by transmitters are present, such as Field Day operating environments. 2) Implements basic overdrive protection that places the LA1K in bypass when RF input drive level exceeds around 68 Watts. (This is only sampled briefly before the LA-1K keys up, therefore slow rise time signals may not activate this protection).


V1.03A,B,C: Firmware versions not released.


V1.03D:1) Add "Direct Keying" to menu options. Default setting is "Normal". 2) Reduce relay sequence time delay to 1 Millisecond.


V1.03E,F,G: Firmware versions not released.


V1.03H: 1) On Band data cable, 30M band updated to select 20M instead of 40M (for better power output around 10 MHz); 2) When SWR is 2.5 or higher, the Direct Keying mode disables to better protect the amplifier from load faults.


SPECIFICATIONS:
SSB Power:
Power levels up to 1000W
CW Mode:
1000 Watts CW ICAS
FM/RTTY:
500 watts
AM:
275 watts
Frequency Range:
1.8 to 54 MHz
Display:
Color TFT touch screen
Input Drive Level:
45W - 55W (All Bands)
Output:
3 x RF SO-239 or Type N
ALC:
Exciter power control
Gain:
13dB + or - 1dB (nominal)
RF Sensing:
Auto Band Switching without Band Data Cable from transceiver
RF Output:
Vacuum RELAY T/R Switching
Power supply:
Internal Medical grade
AC power:
100-125VAC 15A or 200-250VAC 10A
DC supply:
50VDC @42A
Power Devices:
2 x 5600H 600W LDMOS
Auto-Protect:
SWR/Short Circuit/Over Temp
Cooling:
Variable Speed Fans (3 speed)
Intermod:
Low IMD Distortion >-35dB
Pure signal:
Sample@+10dBm (Rear Panel@1kW output)
Chassis:
.090 ga. aluminium
Top cover:
.090 ga. aluminium powder coated
Dimensions:
12.75" wide x 6.25" high x 16.5" deep
Shipping weight:
27 lbs, 12.25 Kg
Design concept:
Full compatibility with the Palstar HF-AUTO autotuner
Warranty:
Two year