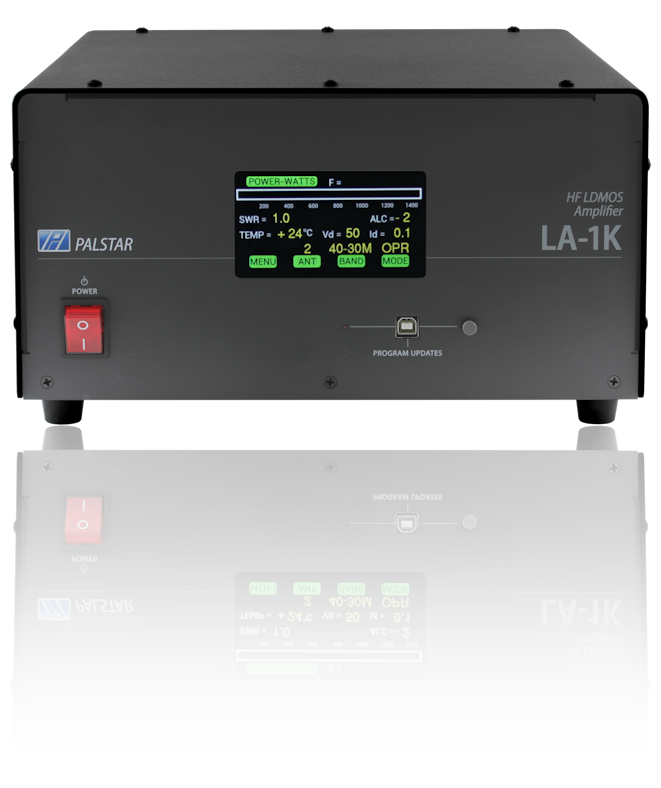 LA-1K
Price: $3495.95 $3795.95 MSRP
Model#: 9005800
EXCLUSIVELY AVAILABLE FROM: HRO, ML&S Martin Lynch & Sons, and Palstar.

New design for 2018 with gray front panel.

We are pleased to announce that the LA-1K has far exceeded all standards in FCC testing at a FCC-certified laboratory and received certification for equipment authorization.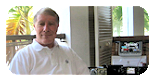 "I received the LA-1K. Commissioning it was simple. Like the HF-AUTOs I have, it just does what it is supposed to do while looking pretty, particularly as it sits on top of the tuner.

Thank you for a great job again, Paul, and to your very good people.

Vy 73,
- W2BWL / M0IBD / V26WT
The LA-1K is a RF Sensing Dual HF LDMOS 1000 Watt Amplifier. While the LA-1K will work with a wide variety of tuners and transceivers, Palstar custom-designed the LA-1K to work as the perfect match for our very popular HF-AUTO autotuner.
MADE IN THE USA
LA-1K in the Ham Shack photos:
[Click on photo to view on Facebook]


DOWNLOADS:
1.
Download
the LA-1K brochure: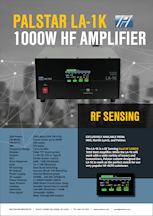 2.
Download
the LA-1K User Interface touchscreen menu options (click below):

3.
Download
the LA-1K manual insert:
Download
LA-1K Firmware:
LA-1K Firmware Summary:
V1.01C: Reduced transmit sequencing delay from 14ms to 3 ms.


V1.02A: Unkeys amplifier with low +50V (<44V) to protect transistors from damage if supply trips as on 120V > 32A conditions.
V1.02B: Replaced the word "FAULT" with "BYPASS" for SWR Trip, Thermal Trip, and LW 50V Trip. Also, color changed from Red to Green on above (except temp#) when too hot.
V1.02D: [In Development] Adds protection against FALSE HIGH SWR readings caused by strong RF signals from other nearby transmitters. At transmit forward power levels below 5 Watts, SWR reading is not updated.


SPECIFICATIONS:
SSB Power:
Power levels up to 1000W
CW Mode:
1000 Watts CW ICAS
FM/RTTY:
500 watts
AM:
275 watts
Frequency Range:
1.8 to 54 MHz
Display:
Color TFT touch screen
Input Drive Level:
45W - 55W (All Bands)
Output:
3 x RF SO-239 or Type N
ALC:
Exciter power control
Gain:
13dB + or - 1dB (nominal)
RF Sensing:
Auto Band Switching without Band Data Cable from transceiver
RF Output:
Vacuum RELAY T/R Switching
Power supply:
Internal Medical grade
AC power:
100-125VAC 15A or 200-250VAC 10A
DC supply:
50VDC @42A
Power Devices:
2 x 5600H 600W LDMOS
Auto-Protect:
SWR/Short Circuit/Over Temp
Cooling:
Variable Speed Fans (3 speed)
Intermod:
Low IMD Distortion >-35dB
Pure signal:
Sample@+10dBm (Rear Panel@1kW output)
Chassis:
.090 ga. aluminium
Top cover:
.090 ga. aluminium powder coated
Dimensions:
12.75" wide x 6.25" high x 16.5" deep
Shipping weight:
27 lbs, 12.25 Kg
Design concept:
Full compatibility with the Palstar HF-AUTO autotuner
Warranty:
Two year
Palstar Incorporated