PM2000A
Price: $349.00
Model #: 9002400
The Palstar PM2000A wattmeter measures and displays forward power up to 2000 Watts, reflected power, and SWR simultaneously on its dual movement meter system in the frequency range of 1.8 MHz to 60 MHz. Accuracy of the readings is assured because the PM2000A features a true shielded directional coupler.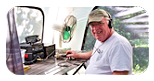 "Solid Investment 5/5 I agonized over purchasing an SWR/Wattmeter with digital readout vs one with cross-needle display, feeling the latter was a bit old fashion. Ultimately, decided on the Palstar PM2000A with a cross-needle display and ... I'm glad I did! It's a solid, well-constructed unit which has given me zero problems. (a) I can tune my manual transmatch very quickly. (b) I get a feel for my modulation level from watching the needle as I speak. (c) The 200/2000Watt ranges are just right for barefoot at 100 watts or 1kW with an amplifier. I'm happy with the unit. Feel i made a solid investment - W8NLZ"
Read more on eHam.net...
The backlit meter can display either peak or average power readings with a Peak Hold function, and has 300 and 2000 watt range settings.
When QST tested the PM2000A's predecessor, the Palstar WM150, they found it to be the only wattmeter with true Active Peak Reading. The PM2000A is the next generation of Wattmeters from Palstar.
All of the features of the WM150 are integrated into the PM2000A but with increased power capability up to 2kW and featuring a 2 second Peak Hold function. Just like on Palstar tuners, the PM2000A has an 11 Ga. (.090") iridite-treated aluminum case with powder coated front panel and top cover.